By Sharon Fisher | May 3, 2022
You may remember, early last year, when stock in several companies – notably GameStop, but also AMC – suddenly boomed due to discussions on social media. A Boise startup, ChatterQuant, is working to capture such movements as they happen.

The company already has 12,000 customers and won the Idaho Entrepreneur Challenge pitch competition and at Hackfort.
"We collect data on different social media platforms in real time to identify social sentiment around stock, positive or negative, then we extract price targets, what price people are buying or selling, and entry and exit prices," said Christian Perry, founder and CEO. The company also can make other insights, such as whether people are converging on certain topics – which stocks are most closely associated with Russia, for example.
Leveraging sentiment analysis
ChatterQuant works through something called sentiment analysis, where software looks at social media posts and makes conclusions about what people think about something based on what they're posting about it. It isn't always easy –sometimes people are sarcastic, for example.
Generally, companies have been using sentiment analysis to help improve customer experience, but ChatterQuant is using it to help figure out what stocks to buy and sell, based on how discussion primarily on the discussion site Reddit helped prop up stocks like GameStop when they were being targeted by short-sellers who were placing bets because they expected the stock to go down.
Consequently, ChatterQuant is starting with Reddit and Twitter, and is looking to expand into YouTube, TikTok, and Instagram, Perry said.
One of ChatterQuant's tools is risk management dashboard that allows organizations such as hedge funds and banks to put their portfolios into the ChatterQuant website and get alerted when social media is discussing their holdings, Perry said.
How the company came about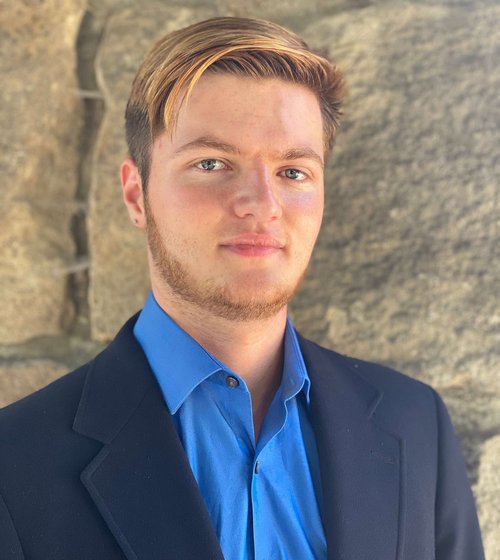 Perry describes himself as a serial entrepreneur who started his first video game business at 13 with two employees, one in China and Brazil. He started a web development business when he was 18, with several other small ventures along the way.
"I've been trading since before I was 18," Perry said. "I made more money than I would have working." He also learned about entrepreneurship from his father, who founded an investment banking firm. "I've been instilled from a very young age about risk-taking, that it's possible to build something like this and you don't even need an education."
After his web development business did well, Perry decided to take a gap year working with the Ski Patrol on Mammoth Mountain in California, where he was from. But when he got injured on the job, he had a lot of time to think about what to do next. "I decided I wanted to go back to school, and Boise State was still taking applications," he said.
Currently, Perry is a full-time student with one year to go in his program of entrepreneurial management and business administration. "I spend 16 hours on ChatterQuant and 2 hours on schoolwork," he said.
Perry's ChatterQuant business partner is a PhD student from Loughborough in the United Kingdom who did his master's thesis on natural language and social sentiment. They met in a stock trading group on the Discord online discussion platform. In discussing trading ideas – such as making algorithms for hedge funds – they realized there was a business opportunity.
At present, ChatterQuant has seven employees, all remote, and spread all over the world, including Hungary, the U.K., and the United States, Perry said.
How's ChatterQuant doing?
The company launched in September, and has built its following largely organically through Twitter, where it has 30,000 followers, Perry said. "We've created a lot of partnerships with influencers," he said.
Now, Perry is coming up with ways to turn the technology into products. For example, the company sells access to some of its tools to retail traders for $35 to $50 per month, he said. And it's working – ChatterQuant has $400,000 in revenue thus far, he said.
Perry has been working with Ryan Vasso at the Boise State University Venture College, who has introduced him to investors and other people who can help the fledgling company. Consequently, ChatterQuant has gotten some funding, such as a small – less than $200,000 – raise through Trolley House Ventures, he said.
That wasn't ChatterQuant's first investor, though. That would be Perry's father and brother, who bought a small share of the company very early on. "They've done very well on that," he said.
So what's next?
While Perry could use the technology to create his own stock fund – "I trade with it personal myself and beat the market consistently" – that's not what he wants to do.
"We'd rather be selling the shovels than doing the mining," Perry said. Starting a company has its own stressors but it's a different stress than throwing money at risk plays, he said.
Later this month, ChatterQuant is exhibiting at TradeTech Europe in Paris, where it is listed as a sponsor along with industry heavyweights like BlackRock, Bloomberg, Goldman Sachs, and Morgan Stanley. "We're setting up our both and promoting our institutional-facing tools to potential clients," Perry said.
The long-term goal is to be acquired, Perry said, noting that he's already received offers that he hasn't taken. "We'd like to see where this takes us before exiting," he said. "We see a lot more potential. I'm not sure what our number is."
Fisher is a digital nomad who writes about entrepreneurship.
This article was created as a collaboration between Boise Entrepreneur Week, Built in Idaho and Trailhead