By Sharon Fisher | March 8, 2022
'What's the worst that can happen?' and 'designing for delight': the 2022 develop.idaho conference
by Sharon Fisher
Watch the Conference on the ITC YouTube Channel
Now in its 11th year, the develop.idaho conference from the Idaho Technology Council (ITC) is usually thought of as referring to software development. But this year's hybrid conference seemed focused on development in a larger sense – the development of Idaho startups, the Idaho tech ecosystem, and even the development of individual Idaho entrepreneurs as people themselves.
ITC CEO and founder Jay Larsen started out the conference by asking what the purpose of a business was. Beyond such aspects as making money, a business also needed to create customers and create experiences, and from that, create meaning, he said.
Keynote speakers started with James Price, chief technology officer of Clearwater Analytics, who spoke about how his personal history, and the history of Clearwater Analytics, tied into the development of Idaho's tech ecosystem, particularly in the context of recruitment and what happens to Idaho companies – and their employees – when they get acquired by companies outside Idaho.
Next was what Larsen referred to as a "fireside chat" with Dan DeCloss, founder, president, and CEO of PlexTrac (though no fire was actually in evidence), where he talked about his personal history and how it led to his founding PlexTrac.
Finally, there was Alexandra Winkler, who talked about growing up and becoming an Air Force pilot and how that and her management consulting background led to her becoming chief information officer for the city of Boise, a role she assumed in September
There were a number of parallels between DeCloss' and Winkler's journeys. Both talked about the influence of their fathers. Both had served in the military and had received some of their higher education by virtue of that service. And both had expressed the same sentiment when deciding whether to take their current positions: "What's the worst that can happen?"
Building a startup
DeCloss started as an entrepreneur early, when he and his dad designed a backyard batting cage and decided to start a business selling them. He talked about how he learned about customer experience from his dad, who always wanted to ship out orders on the same day they arrived.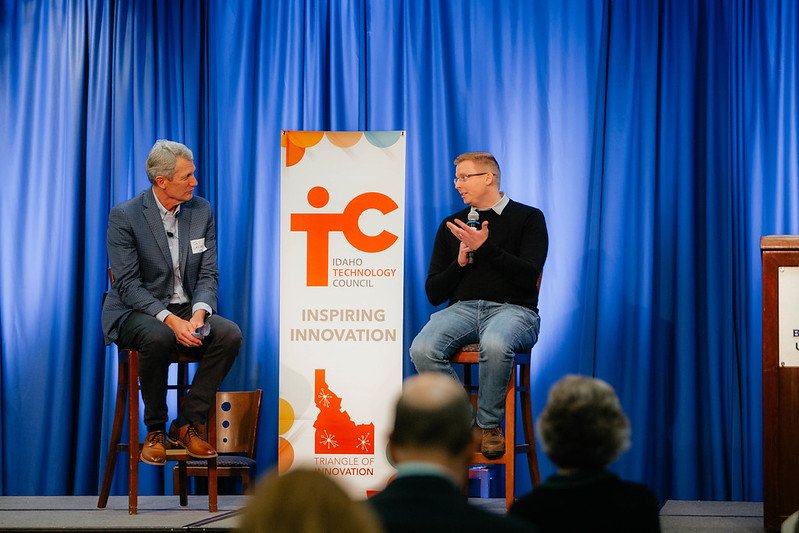 After getting a bachelor's degree in computer science from Northwest Nazarene University, where his father was a math professor, DeCloss started getting into security because he wanted to be able to help people. Through a guest speaker at his senior seminar, where he presented his senior project, a baseball statistic tracking app, he was introduced to a professor at the Naval Postgraduate School, where he received his master's degree in computer science with an emphasis on security.
Because DeCloss was required to work for the federal government due to his scholarship, he started working for the Department of Defense. He had an itch to start his own business but didn't have any ideas at first. Eventually he decided on penetration testing, which is when companies look for their security vulnerabilities. The problem was that after performing the test and writing the report, the process was broken when it came to the people who were actually supposed to fix the security problems, he said.
Then DeCloss started working for Scentsy as a security director, but also going through entrepreneurial programs at Trailhead like Idea Set Go, to help with the startup that later became PlexTrac. Eventually, PlexTrac became a big enough project that he decided to leave Scentsy and focus on it full time. Just a few weeks later, he met Mike Self of StageDotO, and the rest is Boise startup history.
The three things DeCloss has learned along the way is don't give up, find good people to surround yourself with, and what are your super powers.
Connecting a city
In Winkler's case, she was a computer science major at U.C. Davis in the Reserve Officers Training Corps (ROTC), she said. Halfway through college, it was suggested to her that she become a pilot. Unlike many of the other people in the program – more than half of whom already knew how to fly – she hadn't wanted to be a pilot ever since she was in diapers, she said. That meant she had to learn the language of flying – and in the process, got a six-page pep talk from her dad.
Winkler also had to recover from making a serious error in an exercise, landing on the wrong runway, which in another situation could have hurt or killed people. That led her to realize that what she and her team had done wrong was fail to back up their work with data, such as looking at the environment and double-checking against the instruments that they were landing on the right airstrip, she said.
Once Winkler left the military, she needed to decide on a career, and realized she liked to solve problems, so she became a management consultant in process improvement and started working in the Pentagon on logistics. She also spent a period of time being a stay-at-home mom. "I thought that was what I wanted," she said.
After that period, Winkler fell in love with the concept of knowledge management, got a masters of science in knowledge management, and retired to Boise, where she began working for Healthwise. Similar to DeCloss' exhortation to "find your super powers," Healthwise used the book StrengthsFinder 2.0, which she said was eye-opening in terms of learning about her and her coworkers' strengths and finding a taxonomy around them. She has also brought the concept to the city of Boise, she added.
Ultimately, her four main points are: Make your leap of faith, learn how to learn, learn your strengths, and embrace the change, Winkler said.
'Minimum lovable product'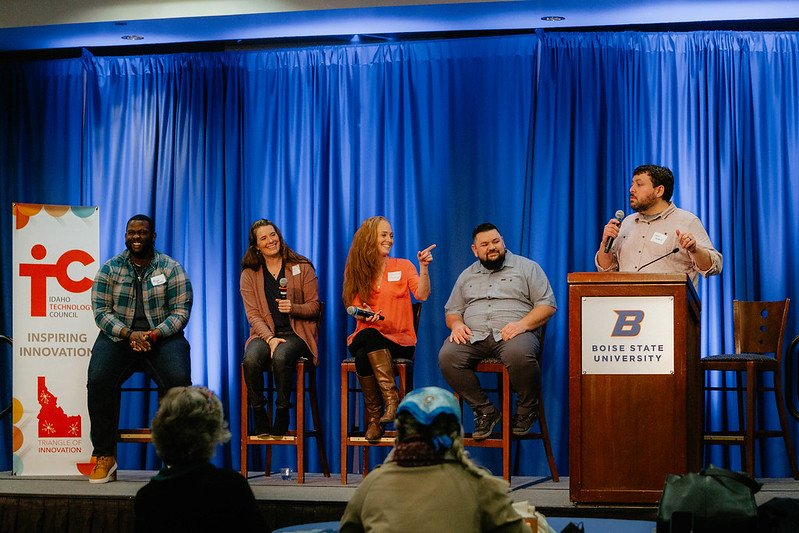 Finally, the conference held a number of breakout sessions led by conference sponsors, including Natural Intelligence, Intuit, and AppDetex. One in particular, led by Loren Morris, a designer at PlexTrac, consisted of a panel of researchers and designers who discussed the distinction between the two fields, and how startups could use those concepts to create, not just products to satisfy customers, but to delight them as well.
The responsibility and role of the researcher is to remain curious and be an advocate for the customer, telling a story about why the company was building this product, said Malcolm Jackson, a senior XD researcher at Intuit who is transitioning to being PlexTrac's first researcher.
Not all organizations have researchers; in smaller organizations, the designer sometimes also has research duties, said Melissa Thompson, a design manager at PlexTrac, who also teachers user experience certifications at Boise State University.
Designers have a unique skillset, including creating, taking input from the customer, working with product managers to define the problem, and working as a team to come up with the idea and creating it, said Shawn Murdock, principal product designer at Intuit.
In the context of "designing for delight," Instead of designing a "minimum viable product," organizations should strive to design a "minimum lovable product," said Julie Roberts Elliott, a senior UX researcher with Microsoft.
This article was created as a collaboration between Boise Entrepreneur Week, Built in Idaho and Trailhead