By Sharon Fisher | May 31, 2022
Pitch Aeronautics Inc., developing a drone that can perform high-altitude inspections more quickly and safely, launched its crowdfunding raise on May 31 on StartEngine, a crowdfunding platform geared to startups.
The crowdfunding round, with which Pitch Aeronautics hopes to raise $1 million, is a follow-on from the $250,000 IGEM grant it received from the Department of Commerce in partnership with Boise State University in 2020, and will enable the company to develop a prototype model for demonstrations this summer, said Zach Adams, cofounder and chief engineer.
"The people we're competing with aren't other drone manufacturers," Adams said. "It's people on ropes and ladders and helicopters and cranes."
What does the Pitch Aeronautics product do?
Named Astria after the Greek goddess of precision, the drone product is intended to solve the problem of touch-based, up-close inspections on assets such as bridges and electric wires, Adams said.
"It's the most dangerous job in the United States," Adams said. "You are ten times more likely to die than in construction jobs, and 1 in 100 will die in their 10-year career."
That sort of work is also expensive. For example, today installing bird diverters – "little tiny reflectors to help the birds see the power line," which keeps the birds from running into the line and short-circuiting it – has to be done from a helicopter, which costs $5,000 to $10,000 per hour.
To be clear, this is not your father's drone that you bought him last Christmas at Walmart. "Drones today can't do this because of the way they move," Adams said. "They have a lot of inertia. If they get a gust of wind, they can't lean enough to stay in the same place."
Instead, Adams built a custom drone, using the IGEM grant, with an extended arm that can currently hold a five- to 10-pound payload away from the center of the drone and use it to interact with the item to be inspected or manipulated, he said. In addition, while it has traditional rotors, they can be positioned more precisely using a cyclorotor that can change the direction of thrust ten times faster, he said. Finally, it is efficient enough to carry a full payload for 20 minutes on a single battery, he added.
The Astria measures 6 feet by 9 feet and weighs 40 pounds, but it can be taken apart in a few minutes to be checked on an airline or put into a rental car, Adams said.
Another difference is that the Astria drone was built in Idaho and nearly all of it, except for a few electronic components, is from Idaho or another regional state, Adams said. That's because the Trump administration determined that drones from Dji, a Chinese manufacturer, were stealing images of infrastructure and keeping them on Chinese servers and banned the use of Dji drones by government agencies in 2017.
Where did Pitch Aeronautics come from?
Both Adams and Cofounder and Business Lead Ian Gibson graduated from the Air Force Academy, while Adams also holds a PhD in mechanical engineering from Purdue University, as well as serving as an F-15 Eagle fighter pilot at Mountain Home Air Force Base. He's been awarded a career intermission, similar to a sabbatical, for up to three years to build the company. "We're commercializing some Air Force technology, which they like," he said.
With the IGEM grant, Pitch Aeronautics hired five student interns in mechanical and civil engineering, as well as in business. "They've done a spectacular job," Adams said. "The first intern got so much experience she left us to work for SpaceX," while a second was hired on to a vertical takeoff and landing company and a third got a full-ride graduate student scholarship to Boise State.
Partnering with Boise State also provided expertise in areas such as robotic control — "it's a completely new type of software to make it easy to fly," Adams said – and concrete, to help teach the drone how to inspect for flaws. The company holds patents on the cyclorotor technology and another one that's pending on the drone configuration itself, he said.
That helped Pitch Aeronautics get this far on just $20,000 in friends and family money and the IGEM grant, Adams said. "We've done $3 to $4 million of development on almost nothing," he said.
$200 billion market
The global inspection market is worth $200 billion, with $1 billion a year just for bridges and power lines – Pitch Aeronautics' first targets, Adams said.
For example, currently bridge inspectors take a standard series of marks, rappel down the concrete comparing the width of the marks to the width of the cracks, and write the results in a notebook, Adams said. "It's been done the same way forever," he said. "It's tedious and dangerous."
Instead, Pitch Aeronautics has developed a concrete crack-measuring sensor using an artificial intelligence camera that can simultaneously measure all the cracks, Adams said. It's cheaper, requires fewer inspectors, and doesn't require shutting down the asset, he said.
Similarly, the Astria device can use active thermography to heat the surface of metallic objects such as wind turbines or airplanes to detect subsurface cracking or delamination that otherwise isn't visible, Adams said. "It's a big problem on wind turbines," he said.
Next steps
Pitch Aeronautics is now partnering with a number of other companies in the inspection field, including Idaho organizations such as Power Engineers, the Ada County Highway District, and the Idaho Transportation Department, to help it test the product and develop its go-to-market strategy.
The plan is to develop a three-tier subscription model. "For a premium, we'll do it for them," Adams said, but the company hopes most of its customers will be on the lease model instead.
Crowdfunding is intended to help Pitch Aeronautics build the prototype and take the company to the next phase. "The goal at the end is to take the prototype and make it something we can sell to like five customers," Adams said.
Sharon Fisher is a digital nomad who writes about entrepreneurship.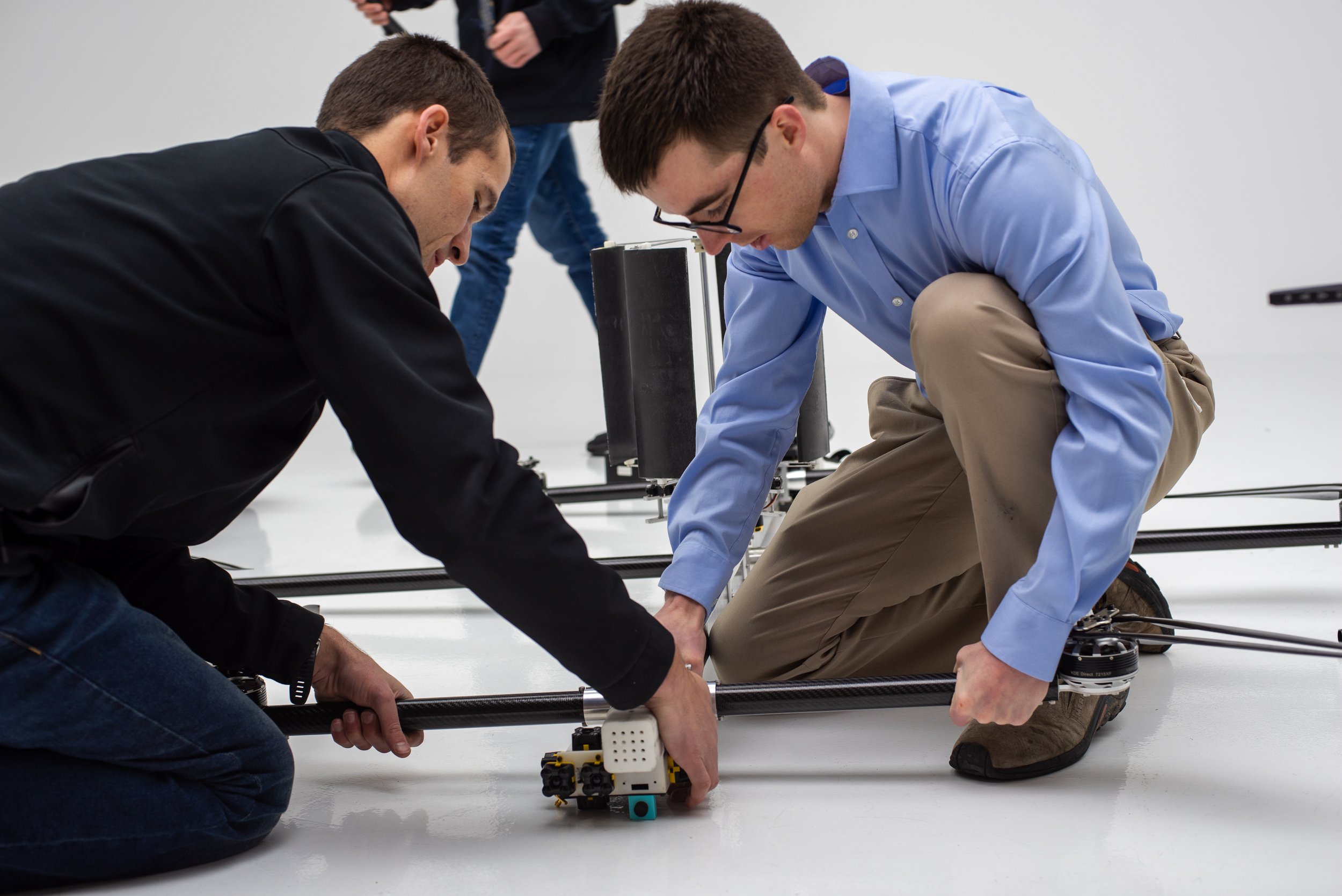 Fisher is a digital nomad who writes about entrepreneurship.
This article was created as a collaboration between Boise Entrepreneur Week, Built in Idaho and Trailhead