By Sharon Fisher | June 23, 2022
Median drug prices for a year's supply increased from $2,115 in 2008 to more than $180,000 in 2021, according to a recent study published in the Journal of the American Medical Association.
That's something Scott Martin, founder and CEO of Ketchum-based Rescription Inc., wants to change.
"A drug is made," Martin said. "There's a distributor. There's a pharmacy. Employees get a prescription. It goes to insurance. This should not be that complicated. They've turned that into an insane system that doesn't need to be like that."
The creation of Rescription

"This is my fourth company in the healthcare space," Martin said. "The other three were successfully launched, grown, and sold to strategic buyers."
The most recent, Remedy Analytics, lasted 10 years and was focused in the prescription space. "Over the 10-year period, we collected hundreds of millions of claims and disparate datasets and data points, and had the ability, through the analytics technology we built, to uncover and show the employer how they're being taken advantage of by the system, how it gets away with it, how much it cost, and developed a blueprint to fix it," Martin said.
That led Martin to founding Rescription. "We've evolved from optimizing a broken system to creating a better system," he said. "We realized you don't need to throw the system out. You need to understand it fully, which we were able to do from all our data we had collected. We know all the players in the market – the claims processors, the pharmacies, who out there has the best track record, technology, process – and we're able to identify those folks. We only need them as entities that are fully aligned with our mission."
Prescription benefit managers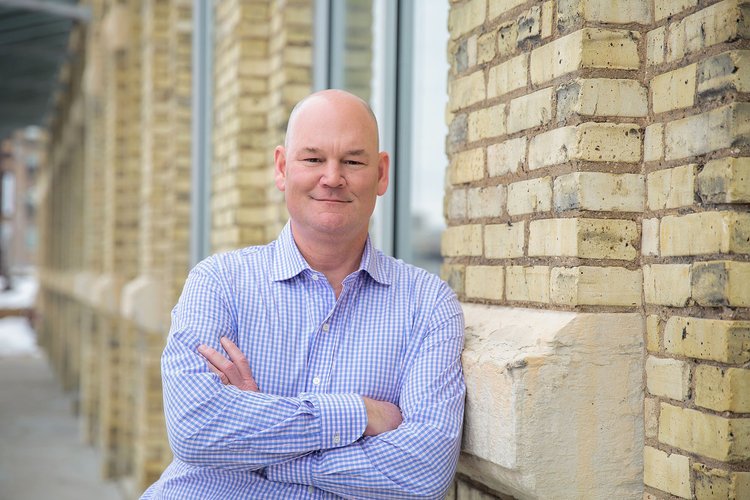 The problem in prescription drugs are the prescription benefit managers (PBMs), Martin said. "There's 66 of them, and the top three have the majority of the market and control the prescription drug system for employers," he said. "If you're an employer, you can't get a prescription drug unless you work with one of these companies. It creates an incredibly opaque system, and the only reason you do that is to hide the truth of what's going on to benefit you and not the consumer."
"If you ask 10 employers, 'what do you think of PBMs?' you'll get 10 run-on answers full of expletives," Martin said. "Nobody likes PBMs."
The current system is as if a grocery store didn't have prices, but instead had a four-paragraph explanation on each item of how the charges worked. "We are unraveling that, making it simple and straightforward, and eliminating a massive middleman," which will lead to savings and better health outcomes, Martin said.
Gaining partnerships
Next, Martin needed partners. "The first partner is the health systems," with the second being employers, he said. Rescription already has one partner, a health system in New Jersey, and an employer, with which it expects to launch in January. "That first customer is always the biggest hurdle, and we've gotten over that," he said.
Other partnerships will provide technology where it makes sense rather than building their own, Martin said. "There's no sense to build our own mail-order entity when we can pick from the two or three best entities out there, he said. "The application we have is a mix of things we built ourselves and entities that we partnered with. We coordinate those together, with communication and processes, into a single elegant delivery for our client, who is an employer and employer member."
Rescription gets paid a certain amount per member per month, while the health system gets a percentage for its role in prescription drug delivery, as well as increased utilization of its in-house pharmacy. "Until today, the opposite has been happening – steering them away from the health system and steering them to wholly owned pharmacies," he said. The company is projected to bring in revenue next year just north of $500,000, he said.
"Rescription and the health system utilize the strengths and infrastructure we both have," Martin said. "The health system has prescribers and pricing, and Rescription has technology and process and communications to put all the pieces together. It begins the process of reverting the system from a complex, opaque system the PBMs have created, and turn it back to the simple system it should be – actual prices for prescription drugs, clarity, no more games, and straightforward fees. The end result is a program that dramatically reduces costs, improves outcomes, and provides the clarity everyone is looking for."
Building a company
So far, Rescription has 10 employees, three of whom are in Idaho, and though it is based in Ketchum it's a remote company. "In our new post-COVID world, we see ourselves continuing to grow, and staying as a remote company," Martin said. That said, at some point the company is going to need an office, if only for sales, as he expects it to grow into the hundreds of employees. "I'm seriously considering Boise as an office space for our white-glove concierge team," he said.
Since Rescription formed last year, it has held an initial $5.5 million Simple Agreement for Future Equity (SAFE) round of fundraising and has just started its second and final fund raise, an equity investment with a target of $8 million to $12 million, which includes its technology partner Vynyl, Martin said. The company is using the funding to finish its buildout for the planned January launch and is continuing conversations with 12 health systems in nine states, including St. Luke's Health System and some employers in Idaho, he said. "We expect next year to start ramping up with new health systems and employers," he said.
Consequently, Martin hasn't planned an exit strategy yet. "I haven't spent a second thinking about that," he said.
"Employers are looking at prescription drug spend," Martin said. "When I got into the industry, it was 3%. Now it's 20%. In some cases, it's 30%, depending on the group and the age of the group. That means, for every $1 you're spending, 20 to 30 cents are going to prescriptions. It's not sustainable anymore. People are spending $30,000, $40,000, $50,000 on one drug. We believe we have the cure."
Fisher is a digital nomad who writes about entrepreneurship.
This article was created as a collaboration between Boise Entrepreneur Week, Built in Idaho and Trailhead