Three young women from Boise High School won this year's Youth Innovation Challenge at Boise Entrepreneur Week by coming up with a solution for St. Luke's Health System.
The team beat out 145 others in the competition, said senior Ruth Etoka.
The purpose of the Youth Innovation Challenge
The Youth Innovation Challenge allows students to propose solutions to real-world problems facing Idaho. Students were able to participate by forming teams during the event and submitting a video pitch by Nov. 23. Typically, teams have two or three members.
Held during Boise Entrepreneur Week, the Youth Innovation Challenge is a "reverse pitch" competition, where Idaho organizations create source problem statements that participating students go on to solve. After a four-week ideation period, students video-pitch their solution.
In its first two years, it had about 80 participants, with about 50 teams from high school and 30 from college.
How they started
The St. Luke's problem statement – "How would you go about attracting and retaining the next generation of front-line health care workers?" – was something all three were interested in, said Etoka, who's interested in entrepreneurship and marketing.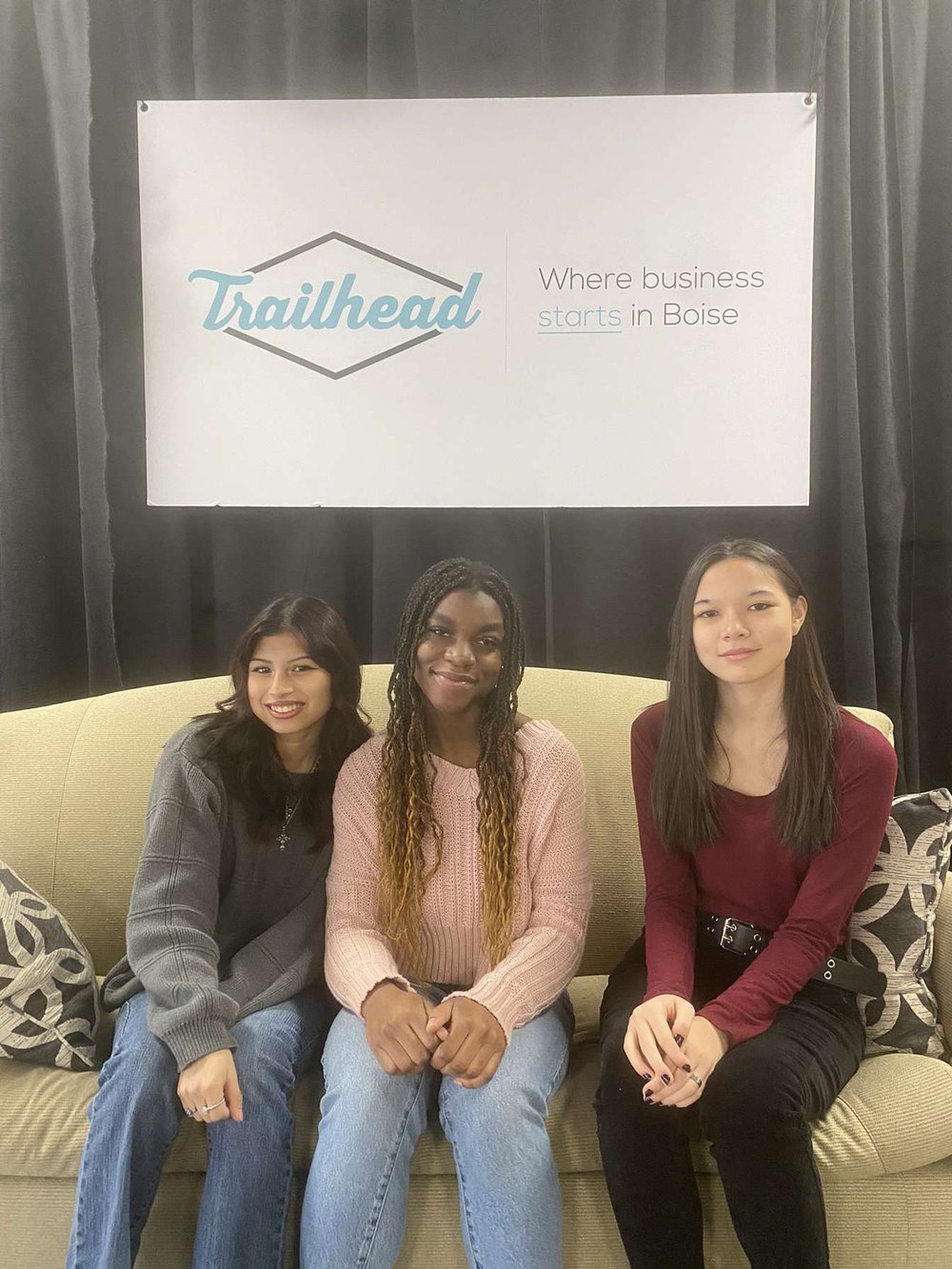 In fact, the three young women found out about the opportunity in their marketing class, where they said they were three out of just four young women in the class of 13 students.
"We had worked together before," said Alondra Arroyo-Martinez, a junior. "We were pretty good at it, so we became a group."
The team split $3,000 in prize money, said Denali Arellano, a junior.
The marketing class helped because it had taught them about strategies, brainstorming, and the different ways people come up with ideas. "We used that to enhance how we were going to come up with a solution," Arroyo-Martinez said.
Their winning project
Their winning solution was an application called CARE, for Connect, Attract, and Retain Employees. "We wanted to focus on having the work environment and wellness programs for people in the health field, and have all the resources in one area," Etoka said.
"It's crucial for the mental health of their staff," Arroyo-Martinez said. "The point is to attract the next generation and reduce stress, which is a big thing. It might convince them that it's not that hard."
What they learned
The young women said they felt participating in the program – not to mention winning – would help them in the future in areas such as college applications and getting jobs.
Etoka, for example, is using it to help her apply for some upcoming internships. "I saw it as a way to help increase my chances in entering entrepreneurship," she said. "Problem-solving is a big part of becoming an entrepreneur. It helps me see how I can grow."
The two juniors said they would like to participate next year as well.
"I'd like to participate next year," Arellano said. "I'm really grateful that I can participate."
"I take this as an opportunity that I took," Arroyo-Martinez said. "Now I can use it. I definitely look forward to doing it again next year."
The team was proud of its accomplishment because they represented not just women, but women of color, Etoka said. "It was overwhelming, but I was really happy and really proud of us," she said. "I'm happy with what we did."
Written by Sharon Fisher, a digital nomad who writes about entrepreneurship.
This article was created as a collaboration between Boise Entrepreneur Week, Built in Idaho and Trailhead