By Sharon Fisher | April 19, 2022
The focus during next week's eighth annual Capital Connect conference, produced by the Idaho Technology Council (ITC), is going to be on Idaho companies – not just the ones looking for early rounds of funding, but what ITC founder and CEO Jay Larsen calls "boomerangs": companies that appeared as early-stage startups several years ago and are now returning after major investments or exits.
"Boomerang" companies scheduled to present include StuKent, VisitPay, LiveFree Emergency Response, Lovevery, and House of Design. VisitPay CEO and cofounder Kent Ivanoff spoke at a Capital Connect conference five or six years ago when it was in its infancy, Larsen said. "Now they've had an extraordinary capital event, so there's a place for us to ring the bell and say, 'Look at these guys.'"
Hybrid conference
After the last two years of having to hold virtual events, this year's Capital Connect conference will be live, in the Simplot Ballroom at Boise State University, Larsen said. So far, about 125 people have signed up to attend, a number he expects to increase to about 200 by next week. "It's a great opportunity for us, because we know people like having live events," particularly for the networking it allows, he said.
That said, the organization will continue to have a virtual component – not so much out of pandemic fears, but to give people the opportunity to attend who might not be able to attend in person.
"We've found it allows you to reach out to other places a lot more effectively," such as eastern and northern Idaho, Larsen said. In fact, it allows people to attend from outside the state, and even internationally, he added.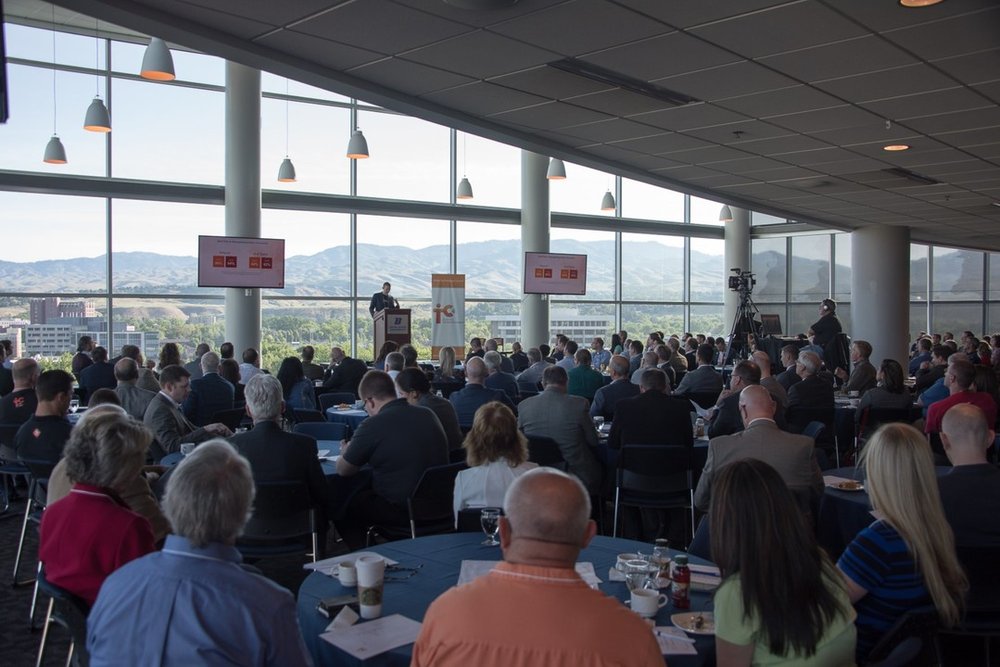 In addition to having sessions running live on the ITC's YouTube channel, the organization may edit some presentations down into two- or five-minute spots to help promote the ecosystem, Larsen said, citing a similar example from February's develop.Idaho conference featuring Boise CIO Alex Winkler. "Parts were just electric," he said.
In addition to the "boomerangs," the conference will also feature quick pitches – four minutes each – from a variety of early- to mid-stage Idaho startups, including Pitch Aeronautics, Revonate, and Boldhue.
Deal Flow Report
Of course, a major part of the Capital Connect conference is always the release of the annual Deal Flow report, which tracks the amount of capital flowing into Idaho and aggregates the various public offerings, mergers & acquisitions, and investments made in the state the previous year. This year will also feature two Employee Stock Ownership Plans (ESOPs), Commercial Tire and Tates Rents, Larsen noted. ESOPs allow a company owner to sell out to company employees.
While technology of course remains the lion's share of investments in 2021, there was a 50% increase in healthcare deals, Larsen said, noting that 9 of the top 20 hot jobs in Idaho come from the healthcare industry. Biosciences is another hot spot. "For a state that's not really focused on biosciences, there's a lot of companies growing in that space," he said. Other fields include financial services, e-commerce, the Internet of Things, and cybersecurity. "They're broad platforms that are showing the strength of the Idaho economy," he said. "That's what we like to see as opposed to narrow."
Interestingly, with COVID-19 still a factor in 2021, many Idaho companies did very well, Larsen said. "The companies presenting had banner years," he said. "Several companies in Idaho had exceptional years." In particular, compared with Idaho's early days of technology innovation, the deals are distributed across many more companies than just the HPs and Microns of the 1990s, he said.
That said, there's not going to be an update on the 50 to the A program – announced in 2020 with the intention of getting 50 Idaho startups to the Series A funding round — at this conference, Larsen acknowledged, choosing instead to be able to have four or five more quick pitch sessions. Instead, another 50 to the A celebration is in the works, he said. In addition, the ITC will soon be able to announce an advisory group it's putting together to help mentor companies through their Series A round, he said.
Where Idaho's tech sector is going
Idaho is not just one of the fastest growing states in the Union, but also has one of the fastest growing technology sectors in the Union as a percentage of gross domestic product, Larsen said. "We've had a lot of people move to the area because of the remote working thing," he said. "32% of the people moving to Idaho came from California. The next largest was Seattle, and Portland wasn't far behind. A lot of these people aren't retiring – they have the ability to work remotely and they want to come to a place like Idaho."
For Idaho to hit the next level, it needs more computer science graduates, Larsen said. Being able to graduate 200 computer science students annually would be a "tipping point," he said. "We're looking at how we're going to help Boise State grow its computer science program," including specialties such as artificial intelligence and cybersecurity. There won't be a lot of talk about that at this particular conference because this one focuses on capital rather than talent, but some of the quick pitches may address the talent issue, Larsen said.
"My goal for Idaho is to make it the most innovative state in the Union," Larsen said. "I'm bullish on Idaho."
Sharon Fisher is a digital nomad who writes about entrepreneurship.
This article was created as a collaboration between Boise Entrepreneur Week, Built in Idaho and Trailhead