To many Idahoans, branding is something you do in the spring that involves calves and hot metal. But these days, branding means something else entirely, and how well you do it can determine the success or failure of a company. We spoke with Kelly Dee Williams, creative director and founder of Superbase, to find out more about it.
How and when did the company get founded?
I started the company in 2016 after spending several years as a consumer products designer, brand manager and creative director. Most of that time was spent working with brands in the lifestyle, outdoor and sports industries – a space where good branding is obviously critical. So I eventually started to get hired as a consultant, and as this service grew into a viable small business, it led to the formation of the design and branding agency I call Superbase.
What was the problem you were trying to solve when starting Superbase? How is it different from similar companies in the market?
Well, almost every time I spoke with someone who recently worked with an agency, they almost always expressed how terrible the overall experience was. It's no secret that there is this weird dynamic between clients and agencies, and more often than not, the relationship ends up taking a turn for the worse as egos create conflicts, expectations are unmet, and the client is stuck with a huge bill without much to show for it. I knew this was a problem with the standard "advertising" or "marketing" agency model, so we have positioned ourselves a little differently. Superbase is built from the ground up to work like an extension of our clients' team.
First of all, we don't claim to be a full-service agency. We know what we are good at and what we are not good at. While many agencies boast about being a one-stop shop and will say yes to just about any project, we simply avoid doing things we don't know. Nobody wins if an agency tries to tackle too many different disciplines. Basically, Superbase is more of a specialist firm. If we suck at it, we don't offer it.
You could say that we are hell-bent on helping brands become unignorable by focusing on a few key services: design, branding, and strategy. Superbase is the only strategy-minded design studio with a proven process for helping organizations of all sizes amplify their uniqueness and improve the clarity of their message.
What specifically does design and branding entail? What sort of company uses your services?
Our services include brand and logo design, graphic design, product design, experience design, positioning/messaging and marketing strategy for a broad range of clientele. We obsess over the details of creative decisions so that our clients don't have to. They have other things to worry about.
Because of this philosophy, any kind of company can benefit greatly from our services. But we typically find ourselves aligning with industries where branding is more important than other qualities such as price or convenience, for example. Within that, we have clients of all types – big and small – from industries as varied as tech and medical to oil & gas and high-end clothing retailers. We also work with several skateboard and snowboard companies and outdoor brands.
How do you operate? Someone comes in and says, 'I want you to do design and branding for my company.' Then what? How do you proceed from there, and how do you know how to do the design and branding?
Great question. We get approached in all kinds of different ways. We always start by asking some questions and learning what goals the individual or organization has in mind, and then determine how we can best help to achieve them. We have some tried-and-true processes such as our Brand North Star Workshop and our Brandscape Discovery that help us uncover the most important details before we begin any design work.
Understanding what makes a brand tick — their brand essence — is what directs the work. Branding and design are definitely not one-size-fits-all solutions. By the nature of the work we do, it's highly tailored and requires a solid process to ensure the project goes smoothly. This is something we have spent countless hours on, refining our process.
Where is Superbase headquartered? How many employees does it have? Are people largely working at home now or in the office?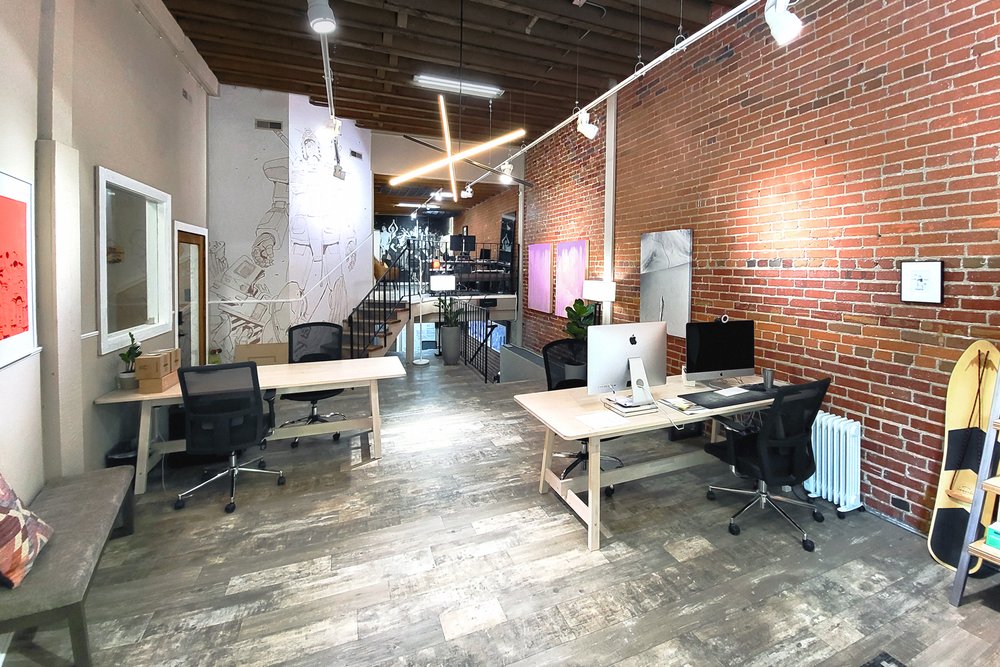 We have a rad office space that we work out of in one of the historic buildings in the BoDo neighborhood of downtown Boise. We're a small but mighty team, with only a handful of employees, but we work with a large network of subcontractors. This structure allows us to provide our clients with the expertise they need.
What was COVID like for you guys?
We were fortunate to have survived the economic impacts of COVID. Business slowed down a bit initially, I think mainly because companies shifted into a more cautious spending mindset as a result of all of the uncertainty. We never stopped working, business ultimately picked back up within a few months and we have continued to grow since then. We noticed an increase in activity from startups and other entrepreneurial ventures, and it has been great working those kinds of projects. We're certainly not immune to issues like inflation and recession, but we just keep working hard and hope for good things to come.


What's it like having a company like that in Idaho? Are a lot of your clients Idaho companies or could you really be anywhere?
Many of our clients are national and international brands. They are located all over the country – North Carolina, California, Colorado and Oklahoma. We love to work with Idaho brands and do so quite frequently. Since so many of our clients are out of state, it's really nice to work with local companies and have the opportunity to meet them face-to-face and see their space or have them visit us in our office. We are proud to be an Idaho-based business.
How are you funded? And what led the company to go that route?
Superbase is self-funded, and we've gotten here with a very frugal, slow-growth approach. The main thing that led to this was the desire to remain independent and not go into debt starting the company. As a service business, we can operate relatively lean and agile, so there hasn't been a need to seek much outside funding yet.
What is your exit strategy?
I can't say that I have a formal exit strategy, to be honest. I have started other companies in the past where I began with an outlined exit strategy. But with Superbase, one of my goals was to create a cool space that was fun to work at, providing Boise talent with a different type of opportunity — not something I was concerned with exiting. I suppose the ideal exit is more of a strategic partnership than an actual exit. I enjoy what I do and the clients we work with.
Written by Sharon Fisher, a digital nomad who writes about entrepreneurship.
This article was created as a collaboration between Boise Entrepreneur Week, Built in Idaho and Trailhead