By Sharon Fisher | March 22, 2022
In case it's been keeping anybody up nights, yes, plans are underway for Boise Entrepreneur Week 2022. In fact, the current plan – after two years of virtual events – is for it to be a live, in-person event.
That's according to organizers Nick Crabbs and Tiam Rastegar at the kickoff Boise Entrepreneur Week (BEW) 2022 Ecosystem Summit, itself a live event held at Boise State University (BSU). The conference's return to in-person was the impetus for the summit, Crabbs said. "We wanted to remind people what being together in a room felt like," and a number of speakers noted how nice it was to be in a room with people again.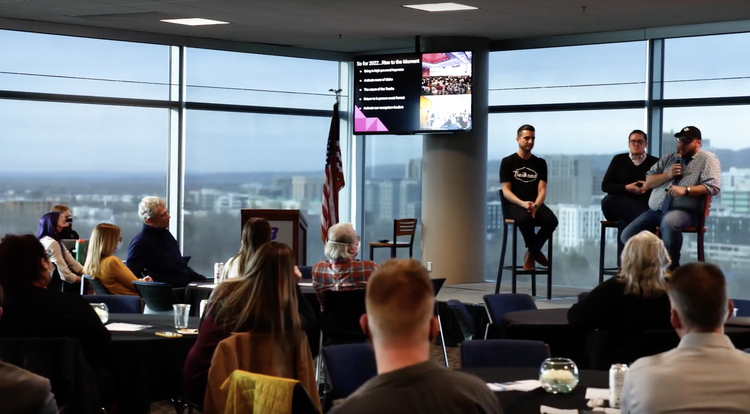 This year's conference – or, as Crabbs put it, the "anticonference," which in past years has included events such as dodgeball, photobooths, and "VR in a bar" in an attempt to keep things weird – needs to reflect the fact that Boise appears to be "going through a moment," he said, with an influx of talent and capital.
One goal is to bring in high-powered keynotes, which could include paying for speakers, Crabbs said. "We've never paid for a keynote," he said. "We've probably grown up past that," noting that other conferences in town have paid for speakers such as Olympic gold medal swimmer Michael Phelps. "This is going to be the expectation going forward, having a keynote of that caliber, because Boise has the spotlight." He didn't get into specifics, other than to note that getting Apple co-founder Steve Wozniak is a speaker is "less expensive than you'd think." Similarly, for the first time, the conference is paying for professional marketing services, from Reynolds + Myers, he said.
Next, organizers want to take one lesson from the past two years of conferences, which allowed a broader population to attend virtually, and activate more of Idaho than just Boise, Crabbs said. Other parts of Idaho, such as the Innovation Collective in Coeur d'Alene and the Idaho National Laboratory in Idaho Fall,s are also hubs of entrepreneurial activity, he said.
Next, in addition to returning to an in-person event, the conference will also return to the track system, where a local expert will be in charge of a series of events associated with each track. Moreover, there are likely to be new tracks, such as one on home building/innovation and on energy/environmental, Crabbs said.
In particular, organizers are looking for new ways to deliver content. "People go to conferences for one reason: to make meaningful and authentic connections that parlay into other benefits in your life," Crabbs said. Instead, many BEW events involve sitting in a room quietly and listening to one person. This year, organizers want to be more experimental, with no expectations, he said.
Finally, the conference wants to activate its ecosystem leaders, and Crabbs named the first three "executive leadership partners": Andy Scoggin, a partner at StageDotO; Brad Wiskirchen, senior vice president and general manager at Kount, an Equifax company; and Blake Hansen, founder and CEO of Alturas.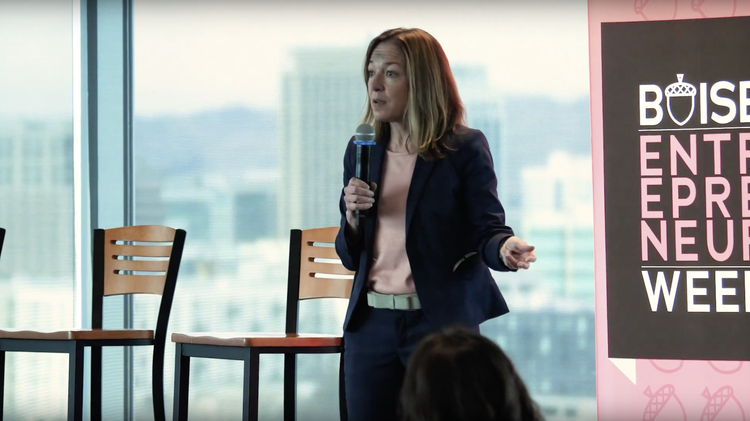 Rastegar acknowledged one missing element — "Where are the ladies at?" – and both he and Crabbs said they would be working on this. There are three expectations for these partners: They need to be willing to fundraise, they need to help with getting higher-level keynotes, and they need to sign up to help accelerate the startups that go through the programs. "When leaders invest in young founders, companies have a better chance of accelerating," Crabbs said.
Other speakers at the star-studded event included Dr. Marlene Tromp, BSU president; Boise Mayor Lauren McLean; Alison Johnson, a partner with Palo Alto, California-based Wilson Sonsini Goodrich & Rosati; and a founders' panel with Adam Stock, founder and CEO of Cargo Mode; Megan Lacy, cofounder and CEO of Lumineye; and Monte Keleher, cofounder and CEO of Fitted.
Tromp described the "incredible synergy" between BSU and the entrepreneurial community, and how the trailblazing experiences and incredible growth each are enjoying makes for great opportunities. Idaho no longer needs to look at places like Silicon Valley as a model, she said. "We need to look to what we can do here."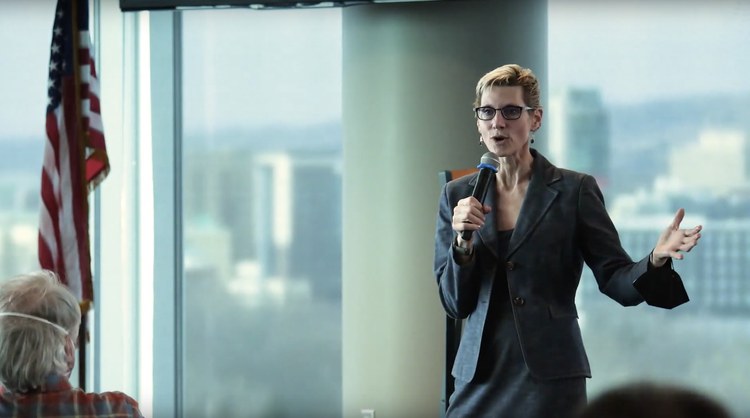 Rastegar differentiated between the startup community – which includes entrepreneurs, startups, and startup employees – and the larger entrepreneurial ecosystem, which includes services and organizations such as Trailhead. He also spoke about the seven types of capital – intellectual, cultural, human, financial, physical, institutional, and network – and how they had to work together. "Ecosystems do not operate in hierarchies," he said. "They operate in networks of trust."
McLean agreed that the entrepreneurial community needs a support network of organizations like Trailhead and BSU, and said she was working to make the Boise city government part of that support network as well, by being willing to invest in people and in events. Events like BEW change the outside narrative, she said.
Johnson spoke about how the Deal Flow report came to be, as well as the 50 to the A program, which has the goal of taking 50 Idaho startups to the Series A funding round. So far, these include Tackle.io, Proud Source Water, and Gather, all of which made Series A rounds in 2020; PlexTrac and Emmersion Learning, which made Series A in 2021; and Tackle.io, which made both Series B and Series C in 2021 and was one of the top private placements of 2021, she said. Other 2021 deal flow events included the $540 million Clearwater Analytics initial public offering (IPO), she said, adding that PlexTrac had already had a $70 million Series B round in 2022.
The three startup panelists each provided advice and where they wanted to be in five years. Lacy advised entrepreneurs not to be afraid to reach out to people, and that in five years she wanted to be the go-to technology for first responders; Stock said to ask yourself who, not what, you want to be, and that in five years he still wanted to be a small local company; and Keleher also talked about the value of contacts, noting that 80% of is company's $10 million raise was from "someone Tiam introduced us to," adding that he expected to IPO in five years.
Sharon Fisher is a digital nomad who writes about entrepreneurship.
This article was created as a collaboration between Boise Entrepreneur Week, Built in Idaho and Trailhead