By Sharon Fisher
Anybody who's spent any time on NextDoor knows how hard it is to find a decent contractor for renovation projects. Gabe Blanchet has founded Revonate in a way to do something about it – and help the contractors in the meantime.
Blanchet studied mechanical engineering at the Massachusetts Institute of Technology and started a sustainable agriculture company, Grove, there. After he sold it, he and his fiancée moved to Idaho. "When I sold the technology to my company and Amanda had graduated, we took a van and checked out a bunch of cities we were thinking about living. We went from Boulder to Bozeman to Bend. We fell in love with Boise really quickly." They visited the Boise Whitewater Park, rented boards and were pretty sold on that, he said. "Then we went up to Bogus and mountain biked, and we just loved that."
Blanchet was also impressed by Boise's entrepreneurial community. After the first wave of legacy companies like Albertsons, Micron, and HP, Boise now is working on its second generation of startups like Cradlepoint, he said. "There's very thriving new company formation, just at the brink," he said. "I'm inspired by guys like Levi Smith (president of Franklin Building Supply) and Tiam (Rastegar, executive director of Trailhead) and Nic (Miller, executive director) at the (Boise State University) Venture College. There's folks really pushing for Boise to have a seat at the table of tech entrepreneurship."
And that's gotten back to other people Blanchet knows, like classmates from MIT, people from previous tech companies, and folks he knows from the venture capital community. "Three years ago, it was 'Where the heck is Boise, Idaho?'" he said "Now they know."
What is Revonate?
Boise is also where Blanchet got the idea for Revonate.
"I bought a few single-family homes and renovated those homes," Blanchet said. "Working with contractors, they said I was one of the most organized customers they ever had," because he made a 3D model of the houses to clearly define the renovations he was making. Then he started speaking with other friends who had home renovation projects on the docket, as well as other contractors.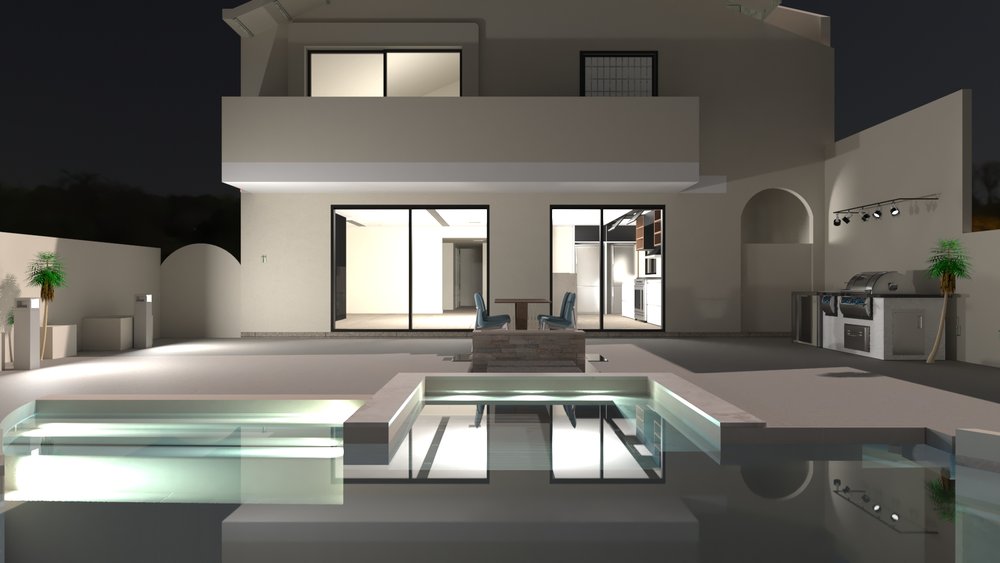 "Our vision for Revonate is to digitize homes and create really compelling workflows for home renovations," Blanchet said. "The fundamental idea is to bring architectural design to renovations that would significantly benefit from it, but often now don't have architectural planning incorporated."
The fundamental problem is that remodels between $15,000 and $200,000 are very hard to scope, Blanchet said. "Architectural design often happens on large remodels," he said. "There's a few firms in town that do that, and they charge a premium for architectural design services. It allows contractors to have a much clearer idea of what's happening and how to direct subcontractors."
So the purpose of Revonate is to digitize homes, create 3D models, and create architectural design, which can significantly lower costs and increase profits and certainty to the contractor, Blanchet said. "What's unique now is the ability to – at a pretty low cost, several hundred dollars – scan a pre-built home and create a dimensionally accurate 'digital twin' of that home. Then you can do all sorts of visualization, what a new floor would look like, what if we opened up this wall, what kitchen faucets we should use. The enabling factor is the rapidly decreasing cost of digitizing homes."
How does Revonate make money?
The core package that Renovate offers is to help owners visualize a home renovation, both before and after, Blanchet said. "Once they're ready to move forward, we can provide a contractor through our contractor network, or the homeowner can find their own contractor." General contractors can also pass homeowners on to Revonate, he added.
Revonate charges homeowners a design fee – "significantly less than a traditional architect firm" – and if the homeowner chooses to work with one of its contractor partners, Revonate takes a percentage of the total contract value, he said.
The result, Blanchet hopes, will be to help reduce the current backlog homeowners face in finding contractors and other skilled tradespeople. "The demand far exceeds the supply," he said. "Whatever we can do to level that creates lot of value. By making contractors and skilled tradespeople more efficient, that's one of the biggest levers we can have in evening out the supply and demand imbalance."
So strongly does Blanchet believe in this mission that, like his previous company, Revonate is a public benefit ("B") corporation, which means they are intended to serve a public good as well as making money. "We're on a mission to increase the productivity, perception, and income of the skilled tradespeople who build around the world," he said. "That's our B corp. statement."
The future of Revonate
"We're on a mission to increase the productivity, perception, and income of the skilled tradespeople who build around the world."

— GABE BLANCHET, COFOUNDER OF REVONATE
Blanchet sees Revonate on the forefront of home construction in the future. "In five to 10 years, a majority of homes will be digitized," he predicted. "If a company can securely host those 3D files, we can create much more efficient workflows, not just for these particular large remodels, but from small maintenance projects to small remodels to large remodels."
Right now, Revonate, which has about six employees altogether and just hired its first full-time employee in Boise, is focused on Boise and Las Vegas, partly because Blanchet's cofounder, Paul Hlatky, is based in Las Vegas. "Our platform has gone live, and has gotten mor homeowners on it now, from both Las Vegas and Boise, with over $1 million in total contract value. We'll be launching out of beta in the coming months," Blanchet said. "Being in these 'tier 2' cities, with rapidly rising real estate prices and a lot of shifting dynamics in terms of who's buying and who's moving in, there's a huge demand for renovation, and equity to fund it," he said. "People who have been living in Boise for several years almost certainly have dreams for their homes and now they have the equity to execute on those."
The company has now also onboarded a handful of select general contractors, generally small- to medium-sized ones, Blanchet said.
Revonate is largely self-funded, though it does have some angel investors from Boise, Boston, and the California Bay Area, Blanchet said. "We've engaged with some of Boise's previous entrepreneurs and angel investors, and raised some significant pre-seed capital," though he couldn't reveal how much.
"We're growing revenue at a very rapid clip," Blanchet said, though he wouldn't reveal actual numbers. "In the last few months, we were growing more than 100% a month. In July, that was relatively easy, but now it's starting to mean something. We're coming out of the experimental phase and are at the transition point between 'proof of concept' and taking a lot more homeowners and contractors on the platform.
Blanchet hasn't planned an exit strategy yet. "For us it's a little early to plan on that," he said, noting that Revonate is still in beta. "Our big vision here is of being a trusted platform, for institutional investors who own thousands of homes, of being the platform that hosts a digital twin of every home our contractors have worked on. That could take us a long way."
Sharon Fisher is a digital nomad who writes about entrepreneurship.