By Sharon Fisher | March 29, 2022
Anyone who wears makeup knows how important it is to get the foundation tone right. Too light, and you look like a ghost. Too dark, and you look like you're trying to fake a tan.
That's the problem BoldHue Inc. is trying to solve. The pre-revenue startup, now with a minimum viable product prototype, is currently at $350,000 of a $500,000 pre-seed round that will bring develop five new prototypes and bring the product from the alpha to the beta stage, said Rachel Wilson, CEO and cofounder.
"I'm half Argentinian," Wilson explained. "With my undertones, I either look like Caspar or orange."
How BoldHue came to be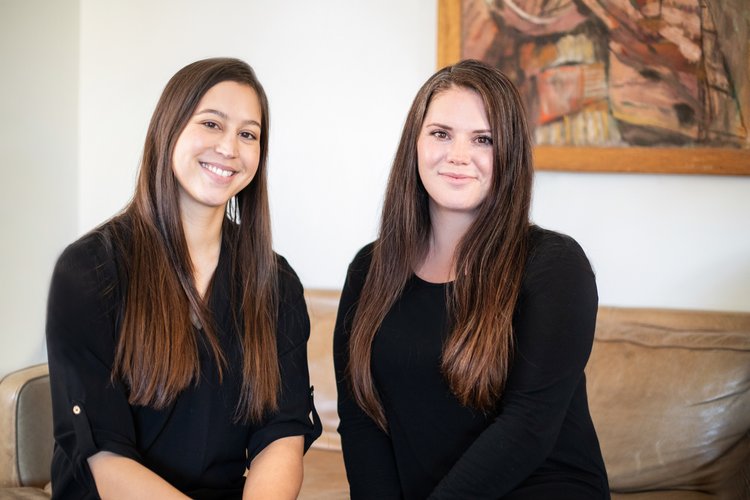 Wilson is in Boise, while her cofounder Karin Layton, who developed the product, is in Denver. When the company gets to a certain size – particularly if it gets Idaho investors – it would like to make Boise the headquarters, Wilson said. The company is working on product design with SGW Designworks in Garden City, while the formulators are a laboratory out of Los Angeles.
The product works by giving users a Bluetooth-enabled handheld device, which they use to scan their skin. The manufacturing element is stocked with pigment-free base foundation pods in either matte, dewy, or sheer finishes – about a week's worth of foundation in each pod. The scanner determines the shade, and the consumer can either accept it or change it. "Asian women like to be two shades lighter," Wilson explained. Once the color is chosen, the device uses five colorants (white, red, yellow, black, and blue) to create the pigment and mix it into the base.
Layton, an aerospace engineer, invented the concept after finding out that the $50 bottle of foundation she'd just bought didn't match her skin tone. "Her pain point resonated with me," Wilson said. Layton had received a $15,000 grant from Arizona State University's entrepreneurial program, and asked Wilson for help with the business end. Wilson began consulting with her, and after about six months the two became partners.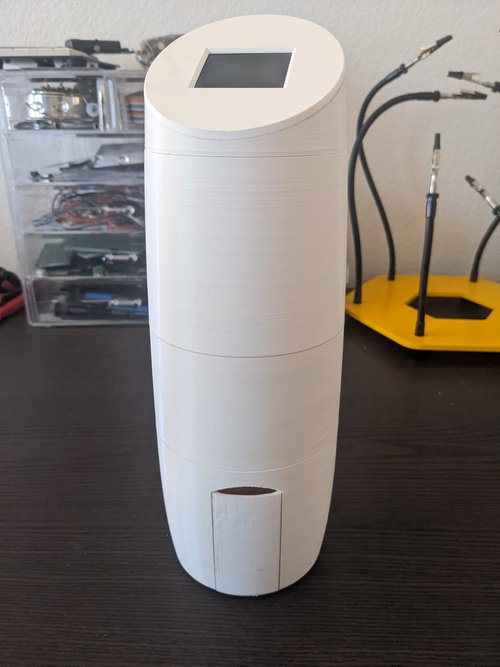 As a psychology major, Wilson began studying the psychology of inclusivity and diversity issues. "The biggest problem with conglomerates is that they only test on white women," she said. "There's a psychological element of what we go through as women in beauty. Black women spend two to three times the amount, because they have to go home and be their own chemists."
Two-time entrepreneur
Wilson herself is a two-time entrepreneur, and it was that experience that led Layton to partner with her. Her first company, Montane Designs, produced candles. "I created a birthday cake candle with sprinkles," she said. "More and more people wanted it, and after three months, I said, 'I'm going to get us into Nordstrom.'"
And after six months, Wilson did. "I called up Nordstrom and pretended I was already in, talked to the head buyer, and sent her a curated sample package." Nordstrom wanted to start with a small order of 4,000 candles. "'Can you get that to us in four weeks?''' she recalled. "You don't say no to Nordstrom or an opportunity like that."
At that point, Wilson was 23, living with her parents, and the maximum number of candles she had ever made at one time was 24. She had to buy all her inventory up front, using her mother's credit card, and proceeded to make the 4,000 candles by the deadline. The reaction she got made it all worth it. "I went into Nordstrom and saw our candles right there," she recalled. "I saw a woman open it, smell it, and get this joy on her face and bought it. And I cried."
But Wilson hadn't yet learned about things like delegating. "It grew too fast and I couldn't handle it," she said, noting that her product got into Crate & Barrel and that people like Salma Hayek and the Obamas had bought her candles. "I thought the smart thing was to do everything myself. I hand-poured everything for five years. That didn't allow me to scale the right way."
That experience was an education Wilson couldn't get in school, she said. "If I was sitting today and had that company, I would know exactly what to do to make it explosive," she said. Partnering with large retail companies is standing her in good stead with BoldHue. "Getting that feedback made me realize it's imperative for a brand to have strong data points up front, where they're going to be in the stores and how quickly to replenish them," she said. "Otherwise, the retailer has all the power and can blame the brand for not selling."
"The biggest problem with conglomerates is that they only test on white women. There's a psychological element of what we go through as women in beauty. Black women spend two to three times the amount, because they have to go home and be their own chemists."

— RACHEL WILSON, COFOUNDER
What's next?
Wilson is hoping to close the funding round in 60 days. "We need the capital to make the product happen," she said. After that, the company needs to raise $3 million to manufacture and distribute it.
The goal is a two-prong marketing strategy, first direct-to-consumer, which allows the company to obtain the strong data points, and then a social selling platform where sellers would receive a commission. "That allows us to go to market in a very aggressive manner," Wilson said. "It gives us two pathways and we don't have to live in one forever."
In three or four years, the company can start working with large brick-and-mortar stores for licensing opportunities like L'Oreal or Proactiv. "Keurig did the same thing," Wilson said. "They launched with their own coffee, and now we can have Starbucks, Peets, and Dunkin'." The goal is for the company to be acquired in three to five years, she said.
Sharon Fisher is a digital nomad who writes about entrepreneurship.
This article was created as a collaboration between Boise Entrepreneur Week, Built in Idaho and Trailhead