By Sharon Fisher | April 27, 2022
Deal flow in Idaho's startup industry shows signs of recovering from the COVID-19 slump, with the number of deals slightly increasing from 2020, though the amount was down by almost a third compared with last year.
Overall, investment deals were $3.5 billion in 2021, compared with $5.2 billion in 2020, according to the Idaho Deal Flow 2021 report, released April 26 by Alturas and the Idaho Technology Council (ITC) at the ITC's Capital Connect conference. Overall, the number of deals was 155 compared with 151 in 2020. Of the $3.5 billion, $2.5 billion were merger and acquisition (M&A) deals.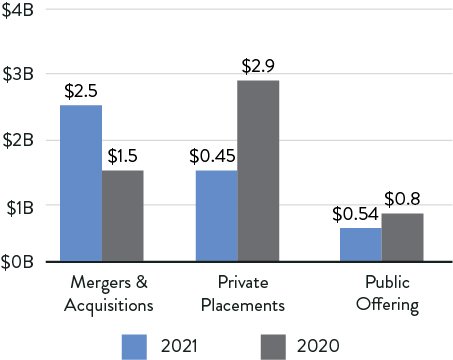 Pre-COVID, 2019 numbers were 154 deals for a total of $4.42 billion.
Deals of note in 2021 included:
Tates Rents and Commercial Tire sold to their employees through an Employee Stock Ownership Plan.
Clearwater Analytics went public through a $540 million IPO.
Lovevery, a developmental toy brand, closed a $100 million Series C round.
PlexTrac closed a $12 million Series A, as well as a $70 million Series B that actually closed in early 2022 and so will be included in next year's report.
Tackle.io closed two rounds of financing for a total of $135 million, valuing the company well over a billion dollars.
TerraClear raised $25 million in Series B funding.
NxEdge was acquired for $850 million by EnPro Industries.
Kount was acquired for $640 million by Equifax.
Clenera was acquired for $389 million by Enlight Renewable Energy.
Deal analysis
Alturas noted that, in comparison with previous years, there were more M&A deals and fewer private placement deals, but pointed out that the same trend was true nationally. Total private placement deals came in at 69 deals, compared with 71 in 2020, with a total of 83 M&A deals, the highest in the history of the Idaho Deal Flow Report, the company said. The amount of private placement funding also dropped significantly from 2020, but 2020 also featured a single $2.5 billion Albertsons investment that skewed the numbers.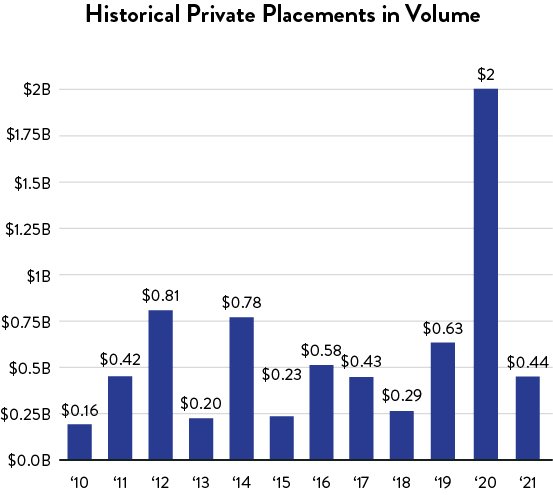 "The year's average deal amount was $44.8 million, with the average private placement deal at $8.2 million and the average disclosed M&A deal at $52.2 million," Alturas said. "Of 67 disclosed amount deals, 34% were under $1 million, with 45% between $1 million and $16 million, and 21% above $16 million."
Distribution showed a sort of anti-bell curve, with 13 deals of more than $16 million each, 12 up to $250,000, and fewer in the middle – 9 each for $1 million to $2 million and $4 million to $8 million, 7 each for $500,000 to $1 million and $2 million to $4 million, 4 for $250,000 to $500,000 and 5 for $8 million to $16 million.
As always, many deals were for undisclosed amounts, which meant that they weren't aggregated into the totals and couldn't be called out individually. In particular, few of the M&A deals disclosed their amounts. In addition, Alturas can only include the deals it knows about; deals that were not publicized couldn't be included.
By Industry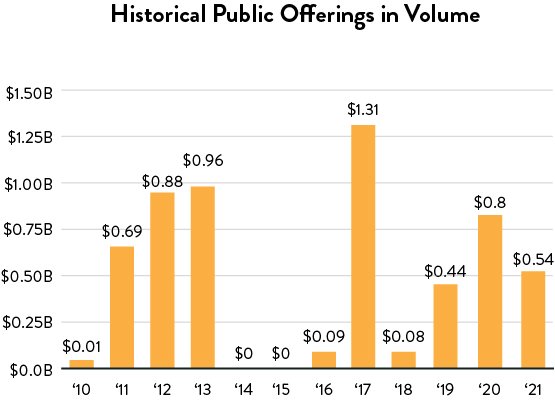 This year's report also included the deeper regional and technology analysis that had been released in a separate report in 2020.
Not surprisingly, the biggest industry in 2021 with technology/software, with 56 deals – a 39% increase from 2020. Healthcare did even better as a percentage of growth, with 15 deals, for a 50% increase. Financial services dropped to six deals, a 50% decrease from the previous year, services dropped to 17 deals, a 33% decrease, and materials/resources and consumer/retail were essentially unchanged with 28 and 27 deals respectively. "Other" amounted to six deals, a 14% decrease from 2020.
Deal volume, though, tells a different story. There, technology/software provided 51% of the deal flow, with materials/resources amounting to 38% and consumer/retail providing 11%.
By region
As one might imagine, of the six Idaho regions, the one with both the most deals and the largest volume of deals was the Southwest region, which includes Boise. The region accounted for 103 deals, 93 of which and $3.37 billion of which were from Ada County, with five, amounting to $5.75 million, coming from Canyon County. Boise alone accounted for $3.3 billion.
This region also had the lion's share of technology/software deals, with 42, as well as 18 consumer/retail, 14 services, and 13 materials/resources.
Next biggest was the Northern region, which included Bonner County with four deals amounting to a total of $7.1 million and Kootenai County with 19 deals amounting to a total of $82.2 million. That region also held the two cities that came in second to Boise, Post Falls and Coeur d'Alene, tied for about $490 million each. This region also came in second in terms of technology/software deals, with nine, followed by materials/resources with eight and consumer/retail with five.
North Central Idaho had six total deals, two each in Idaho, Latah, and Nez Perce counties, with the Idaho County deals amounting to $25.3 million.
Eastern Idaho had a total of 13 deals, eight of which, amounting to a total of $1.4 million, were from Bonneville, with two for a total of $535,000 in Jefferson County and one from Teton County for $360,000.
South Central had eight deals split between Cassia and Twin Falls counties and Southeastern had two deals in Bannock County.
The digital version of the 2021 Idaho Deal Flow Report will be available on May 13, 2022. To receive a link to the report, subscribe to the Built in Idaho newsletter at www.builtinidaho.org/joinbii.
Fisher is a digital nomad who writes about entrepreneurship.
This article was created as a collaboration between Boise Entrepreneur Week, Built in Idaho and Trailhead